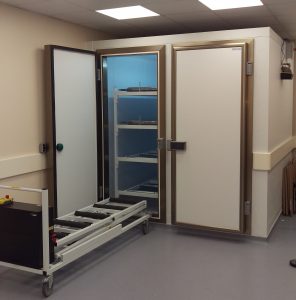 The versatile mini cold room options are ideal if you only have a limited space. They can be constructed quickly and easily and into an alcove if necessary as they can be assembled working from within the cold room. Mini cold rooms and freezer rooms are the ideal option for small businesses such as, Restaurants, Grocers, Florists, Bakers, Butchers and even domestic walk-in fridges.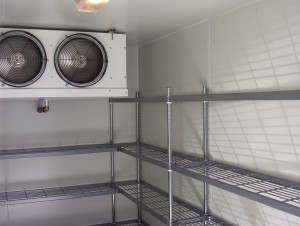 Mini room sizes are increased in 30cm increments along either side with sizes starting from 900mm x 1.2m up to 3.0m x 4.2m internally. The rooms are constructed using 80mm thick tongue and groove panels which fit together by way of cam locks. Rooms are available in 2 height options, 2.1m or 2.4m external. The rooms include a standard hinged door with approximate clear opening dimensions of 700mm x 2000mm, an optional 920mm wide door is also available. Doors have a Yale type lock and an internal "anti panic" release which allows escape from the room even if locked.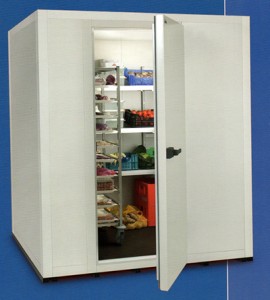 Freezer versions would have a heated door frame and pressure relief valve as standard. Rooms can be supplied with an insulated floor for freezer applications or floorless for positive temperature use where an existing tiled or similar finish floor is preferred. There are Many other options are available such as, double glazed glass doors, coved internal corners, skirting and different types of reinforced floor.
If your available space is not just limited but also a specific shape or size, then one of our bespoke mini rooms may be the ideal solution. Using industrial panels we can cut to fit any shape required, with various finishes to the face of the panel. This also allows for a larger selection of door options including Aluminium framed, hinged or sliding doors.
Please call one of our sales team or use the enquiry form below.