The scope of our indus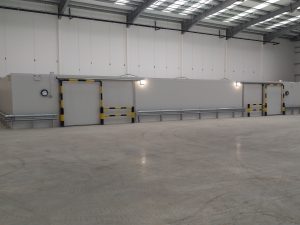 trial range is virtually limitless, with uses including chilled and frozen product storage, temperature controlled distribution stores as well as food preparation and production areas, the industrial insulated sandwich panels are the ideal choice. With industrial panels, size is only limited by site conditions and transport restrictions, panels can be supplied up to 19m in length.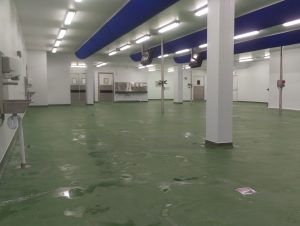 Industrial panels are available in various thicknesses from 50mm to 220mm, sizes are chosen depending on the application, such as ambient, chilled or frozen food storage. There are a variety of surface finishes, including flat faced, ribbed or beaded all of which can be supplied with a food safe polyester coating For external use the panels can be fished in a variety of standard RAL colours to match existing industrial buildings.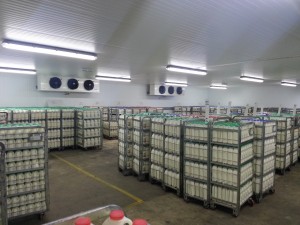 Industrial doors are available for all applications including large, heavy duty sliding doors for fork lift entry. These doors can be manually operated or fitted with automatic, electrically operated tracks offering a variety of control options, ie PIR, in floor sensors or pull cord. Other doors available include single or double leaf hinged, flip flap, crash, rapid rise, roller shutter and personnel. The larger doors can also be supplied with steel "goalpost" protection to reduce the risk of damage to the cold store fabric.
At Polarcool, we only use PIR foamed panels (Polyisocyanurate) as these conform to building control requirements in respect of fire reaction. These are certified by the LPCB (Loss prevention Certification Board) which is usually a mandatory requirement for most insurance companies.
Please call one of our sales team or use the enquiry form below.